Shoulder workout is searched roughly 15,000 times a month.  That means there are a lot of people out there looking for a better shoulder workout than the one they are currently doing.  Listed below are a couple of different shoulder workout exercises that can be done while using The Isolator from Isolator Fitness.
Shoulder Workout With The Isolator: Lateral Cable Shoulder Raise
When putting on The Isolator, it is imperative to make sure the ring is located on the back of the arm for this shoulder workout.  It is important to adjust the cable height on the machine to make sure that it is at the lowest setting.  Attach one of the adjustable straps to the cable using one of the carabiners.  Position yourself so that the resting arm is pointing toward the cable.  Make sure the adjustable strap is behind you and attach it to the cable.  Position your arm in a ninety degree angle and raise the elbow to should height.  Return to starting position in order to complete one rep.  Make sure that while doing this shoulder workout that you make sure to switch sides and work both shoulders!
Shoulder Workout With The Isolator: Lateral Shoulder Raise
This exercise can be performed by using either dumbbells and the dumbbell holders or it can be used with the Olympic plate holders and weight plates.  The dumbbell holders and the Olympic plate holders can be attached directly to the forearm ring of The Isolator with the carabiners.  To complete the exercise, bend the arms at the elbows into 90 degree angles and raise the arms up to the height of the shoulders.  Lower the arms back down in order to complete one rep of this shoulder workout.
Shoulder Workout With The Isolator: Seated Dumbbell Press
Just as with the lateral shoulder raise, this exercise can be performed with either the Olympic plate holders or with the dumbbell holders.  Make sure that the rings from The Isolator are located on the back side of the arm.  Adjust the straps so that when the weights are sitting on the floor and you are sitting on the bench, there is no extra slack in the straps.  Press upward until hands are above the head.  Lower the weight back to starting position to complete one rep of this shoulder workout.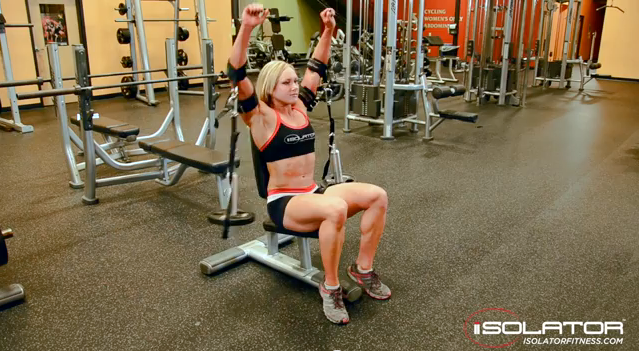 Shoulder Workout With The Isolator
The Isolator is a great tool to use for a shoulder workout, even if you have suffered an injury to the hand, wrist or grip.  Due to the innovative design of this product, there is little strain put on those areas during a workout.  As a direct result, the secondary muscle groups are not going to be working like they would in traditional lifting methods.  This provides a much more isolated and targeted workout than those traditional methods of doing a shoulder workout.