4 Great Reasons To Buy From Us:
We package and ship your order as fast as we can!
Isolator Fitness uses different fulfillment centers to package and ship your order so you can expect your purchase in about 5-10 business days. Standard shipping cost is $9.99 for the continental US, but we ship just about anywhere!
✓ Once your order is packed and shipped, you will receive an email with your tracking number.




Returns Information:

We offer a 100% Satisfaction guarantee or your money back (see return policy). Please contact us for return requests.

WHAT MAKES US EXCEPTIONAL?

All our meal prep bags are made in the USA!

Lifetime warranty on our American made zippers and stitching
Trusted by millions worldwide!
100% secure online ordering
Knowledgeable and professional customer support
All items are in stock and ready to ship upon ordering




Isolator Fitness is the world's leading supplier of high-quality fitness and nutrition products.
From our high-quality brand to our exceptional online customer service we are confident you will be a returning customer.

WHY OUR CUSTOMERS LOVE OUR ISOPASTA:
This low carb pasta is high in protein making it an excellent choice for anyone looking to raise their nutritional intake without also creating a spike in their blood sugar.
✓  30G PROTEIN - PER PORTION ✓  7G NET CARBS - PER 50G SERVING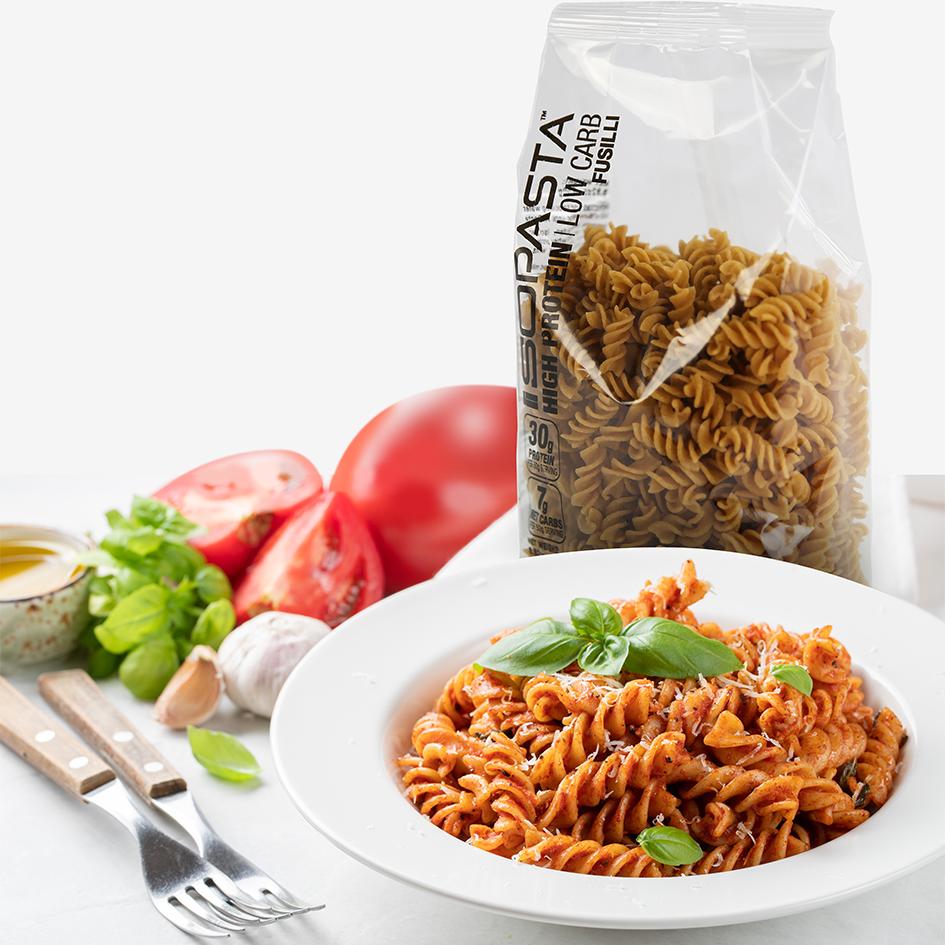 FUSILLI
"Hands down delicious! I'm a huge pasta fan and seeing as how this helps add in some more protein to the day makes it even better!"
—Brandon Henley, ISOPASTA Fusilli Customer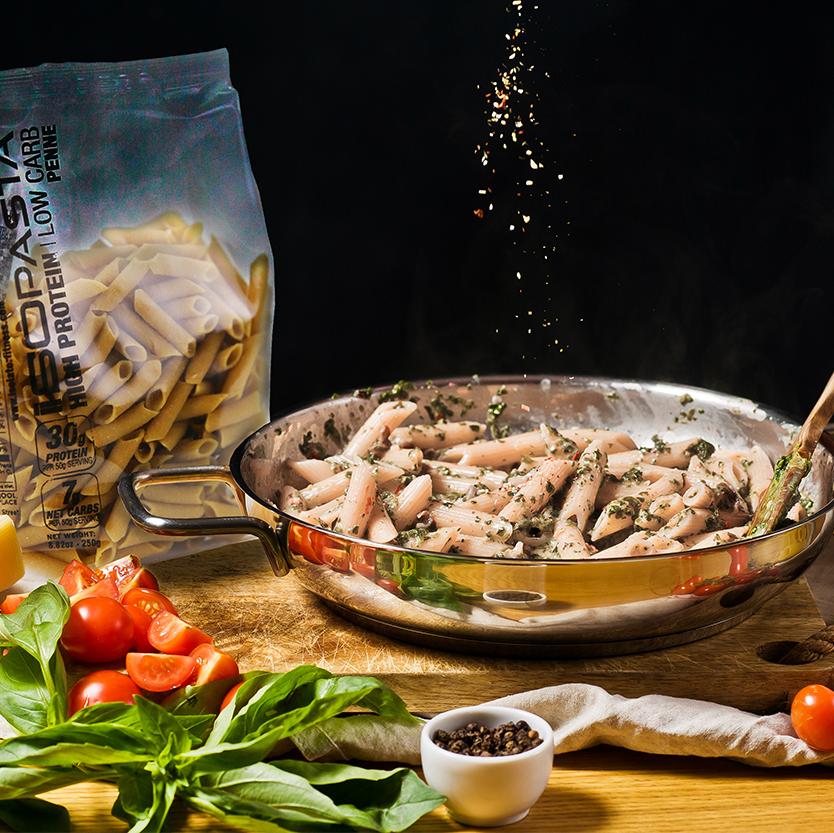 PENNE
"This is good stuff when you are eating low carb and crave real pasta, not zoodles. I will be ordering it, again." 
—
M. E. Kannegaard, ISOPASTA Penne Customer
Wheat gluten, isolated soy protein, pea protein, whey protein, wheat flour, wheat fiber, egg white (5%), stabilizer: guar gum

Gluten, soy, eggs, and milk
Pasta is generally thought of as a guilty pleasure...

But not anymore!
We have turned our backs on the outdated concept of high-carb, low-protein pasta and flipped the switch!
Introduction:
Low-carb, high-protein ISOPASTA.

And It's No Gimmick!

It's just a revolutionary, gourmet-crafted, alternative to the archaic pasta model.

With 30 grams of protein

and an astonishingly

low 7 net grams of carbohydrates

 

in each serving, ISOPASTA certainly has reversed the way we look at noodles.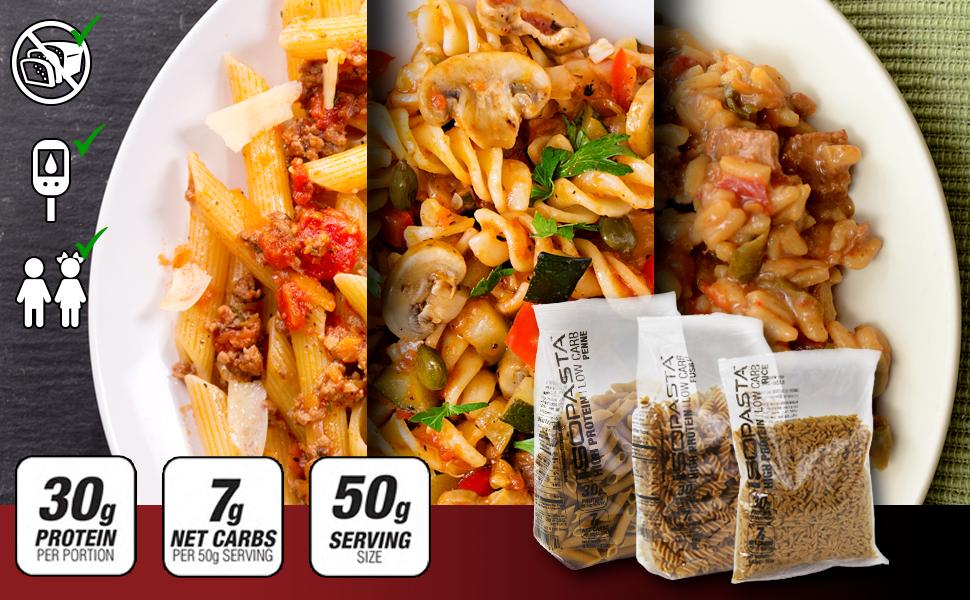 Why deny yourself the pleasure?

ISOPASTA is the ideal pasta for specialty diets

Low-Carb

-

 

ISOPASTA's high protein and low carb content make it possible to enjoy one of your favorite meals again without sacrificing your low-carb diet rules.

Diabetic

- ISOPASTA scores low on the glycemic index making it a diabetic favorite!

Kid-Friendly

- 

ISOPASTA's high protein content paired with its natural ability to absorb and mimic the flavors of any sauce that's added to it makes it an easy choice for picky eaters.
Health. Vitality. Happiness. Joy.
At Isolator Fitness, we are health and fitness professionals and enthusiasts who work day and night to bring you all of the tools you need to build a healthy diet, live a healthy lifestyle, and achieve your health and physique goals. 
Did You Know...
Nutrition accounts for 80% of every fitness equation while exercise accounts for a mere 20%.
For true carb lovers, one of the hardest things to say goodbye to when you start limiting the number of carbohydrates that you are eating is pasta. Other light carb alternatives include kale chips or cauliflower rice. But the options have been limited. Until we created ISOPASTA! You now have endless options for low-carb delicious meals! 
What are people saying about ISOPASTA?
★ ★ ★ ★ ★ 
Great source of protein.

I'm an ovolacto vegetarian and this is a good way to get my protein without having to drink whey powder all the time. I thought I would feel bloated after eating a lot of this penne, but I am doing well stomach wise. This pasta cooks well and is also perfect fuel for my pre and post runs. I will buy more soon.
- David
★ ★ ★ ★ ★ 
Hands down delicious!
"I'm a huge fan and seeing as how this helps add in some more protein to the day making it even better!"
- Brandon