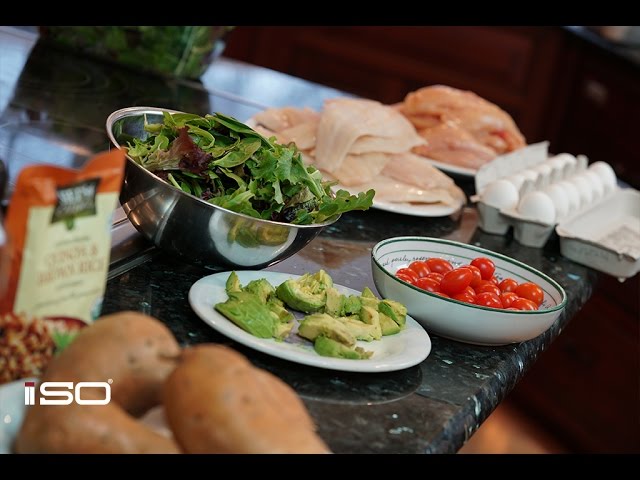 Looking to start meal prepping?
Watch our in-depth breakdown of meal prepping including tips and tricks. Learn about:
Portion recommendations for both women and men
Foil boats - how to cook with different spices and sauces while utilizing only 1 pan!
What temperature to cook different proteins at
How to mix in carbs, vegetables with the "Pick 2" method.
Economy of time and shopping
Plating and cool-down time
When to freeze or refrigerate
---
The Reasons for Meal Prep are Many - Along with the Benefits
We all have our own reasons for meal prepping:
But the benefits are the same for everyone.
---
4 ingredients max!!!!
Sautéed Chicken with Green Beans and Mushrooms
2 lbs. Diced Chicken Breast
1/2 lb Green beans
1/4 lb Sliced portobello mushroom
Chili-mayo topping sauce
Makes: 8 portions
Rosemary Grilled Chicken and Quinoa
1 Cup Quinoa
2 lb Grilled chicken breast
1/2 lb Melody pepper (grilled)
Marinate chicken in rosemary & garlic for at least 1 hour
Makes: 8 Portions
Bell Pepper Flank Steak with Corn
1.5 lbs. Flank steak (marinate in garlic/chili oil infusion for 1 hour)
1/2 lb Bell Peppers
1/4 lb Corn (Frozen is fine)
2 Avocados
Makes: 8 Portions
---
Simple Roasted Chicken Thighs
2 lbs. Boneless Thighs
1/2 lb Mixed vegetable blend
Marinate chicken thighs in rosemary,
chili powder infusion for 1 hour
Steam vegetables if possible
Makes: 8 Portions
Spaghetti Squash and Turkey Meatballs with Pumpkin Sauce
2 lbs. Ground Turkey
1/2 lb spaghetti squash
Roll approximately 24 small meatballs from your turkey.
Add small amount of salt and a generous amount of pepper
Drizzle with pumpkin sauce reduction
Makes: 6 Portions
Grilled Lamb Chops with Asparagus and Mushrooms
2 lbs Lamb chops
1/2 lb Asparagus
1/2 lb Grilled portobello mushrooms
Add crushed garlic, thyme, melody pepper, lemon pepper and juice to the chops
Makes: 8 Portions
---
Grilled Chicken with Quinoa and Veggies
2 lbs. Grilled chicken breast
1 Cup Quinoa
1/2 lb grilled pepper (bell or sweet)
1/2 lb carrot slices (size to choice)
Steam vegetables if possible
Makes: 8 Portions
Grilled Shrimp with Sautéed Spinach and Rice
2 lbs. Shrimp
2 Cups of wild rice
1/2 lb fresh spinach - saute with 1 Tbl spoon of olive oil and 6 garlic cloves
Season shrimp to your liking (pinch of salt, pepper, chili powder
Makes: 8 Portions
Asian Stir Fry Chicken and Quinoa
2 lbs. Chicken thighs
1 Cup red Quinoa
1lb of Asian stir-fry mix (steamed)
Marinate chicken in low-salt soy sauce 30 minutes before cooking
Makes: 8 Portions
---
Grilled Steak Tips with Potatoes, Tomatoes and Kale
2 lbs. Tri-Tip Steak
1/2 lb sweet potatoes
1/2 lb Tomato and kale blend
Dry rub steak 1 hour before grilling with an infused blend of salt, pepper, chili powder and turmeric.
Makes: 8 Portions
Cheese Stuffed Chicken and Veggies
2 lbs. Large chicken breast
1 lb. of mixed vegetables
1lb of Cheddar or pepper-jack cheese
Rub chicken with lemon zest and chipotle-type spice
Slice a small longitudinal pocket into the breast, place cheese inside
Makes: 8 Portions
Rib Eye Steak and Potatoes with Vegetables
2 lbs. Grilled rib-eye steak
1 lb new potatoes (mini)
1/2 lb mixed vegetables (California blend)
Brush rib eyes with a garlic chili powder infusion 1 hour before grilling or baking
Makes: 8 Portions
---
Shrimp and Spinach Spaghetti
1 lbs. Shrimp
1/2 lb fresh spinach (uncooked)
1 lb Whole grain pasta
1 can pureed tomato
Saute shrimp in coconut oil, garlic and red pepper flakes, add tomato puree after shrimp have set up
Makes: 8 Portions
Grilled Chicken with Peppers and Quinoa
2 lbs. Chicken breast
1 Cup of quinoa
1/2 lb bell or melody pepper
Brush chicken with infusion of olive oil and curry 1 hour before cooking.
Makes: 8 Portions
Ground Beef with Brussels Sprouts and Rice
2 lbs. Ground beef (90% Lean)
1/2 Lb brussel sprouts
1 1/2 cup of rice
Reduce ground beef in separate pan, cook fully, drain fat
Add your low sodium spice of choice to rice and brussel sprouts.
Makes: 8 Portions
---
Shrimp and Quinoa with Potatoes and Asparagus
1 lb. shrimp
1/2 lb Fingerling potatoes
1/2 lb Asparagus
1 cup of Quinoa
Marinate shrimp in infused blend of rosemary, thyme, black pepper and garlic
Makes: 8 Portions
---
12 Oz ISO
Portion Control
Protein shake mixes
Cheeses, snacks high fat low volume dishes
Very small protein sources
16 Oz ISO
Most popular size
Fits up to 400-500 cals
Some room for rice
Larger protein sources
28 Oz ISO
2nd Most popular size
More room for rice or carbs
Fit meals of 600+ calories
Larger sized protein
38 Oz ISO
High volume salads
Anything with a bun
Most room for rice
Fit protein meals of 800+ calories
Save Money
It may seem like the drive thru dollar menu is a great value, or that all you can eat wing night at your favorite restaurant will save you a ton of money, but in reality both of these dinner choices are a drain on your bank account. Buying whole and healthy ingredients may give you sticker shock at first, but once you come to realize how many different meals you can prepare with those foods, and how many days they will feed you for, it quickly becomes evident that fine dining, fast food establishments, and everything in between is just a huge waste of money.
Nutrient Rich Diet
Eating out definitely has it's perks. You don't have to cook, and you don't have to clean; no one has to agree on what they want to eat, and you can all order your own meals regardless of what anyone else is having. But the benefits just don't seem worth it when you factor in the money spent, and the calories consumed. Especially when you can get all of those benefits from a weekly meal prep, which costs marginally less and will be more nutritious for you and your family.
Finally Full
It's not a strange, or unexplainable phenomenon that the more you eat, the more hungry you feel. This happens because of a chemical reaction, caused by the foods which you're eating, that triggers your brain to crave more food; not because you need more food, but because you need more nourishment. The only way to finally feel full is to feed your body correctly so that these chemical reactions cease to exist.
Less Busy
Saving yourself hours every night by already having healthy meals prepared for yourself and your family gives you back hours to your day. Hours that you can choose to designate to whatever you want. This time can help you to feel less busy in your everyday life; not just because you'll have significantly less to do, but because you'll also have more time to complete the necessary tasks.
Relaxation
So much of our time is spent stressing out about the future, but by taking time to prepare accordingly for it, we can eliminate that stress and embrace the periods of relaxation that will follow. Meal prep container TV dinners, allow you to focus on your personal needs before the nutritional needs of others.
Organizational
Colorful meal prep containers do wonders for improving the organization of your refrigerator and freezer. With seven different colors, including: red, purple, gold, green, blue, orange, and black the organizational options are abundant. Whether each person in the family gets their own color, or a different color is assigned to each day of the week, meal prepping organization has never been easier, or more salient.
Productivity
Finding more hours in the day is as easy as preparing meal preps. Once your food is cooked and prepackaged for the week, that daily task is taken off of the table, leaving you with more time to get more important things done. Whether your productivity involves having more time to focus at work, or more time to interact with your family, you'll certainly find it if you take a little time out of a single day to meal prep for the entire week.
In conclusion
Meal prep containers are a vital piece of the puzzle and one that you'll be lost without. There are those that will tell you that different containers are significantly better for different situations, but the truth is that if you buy a set of quality, durable, and affordable meal prep containers you'll be set. You might be asking yourself "What does the container matter?" and lucky for you, I have the answer. Take a look at the chart below and see if you have a preference of which meal prep container you'd rather eat from.
Our Meal Prep Containers Boast Quality: Here are a few reason why you should select ISO meal prep containers
North-American Made
When you buy a meal prep container that has been made in North America, you're getting a guarantee that the product is compliant with a higher caliber of safety requirements than those that are made in Eastern countries such as:
China
Korea
Taiwan
India
Vietnam
Malaysia
Virgin Polypropylene
Recycled polypropylene brings with it a host of problems, including the fact that it's never guaranteed that the plastic used to make your new food containers, hasn't previously been used for things like lawn furniture, or storage pails. These recycled products can be rather dirty and thus contain trace amounts of these contaminants, that are then transferred to your plastic meal prep containers. Buy virgin polypropylene plastics for your food containers and you won't have to worry about what toxins may be lurking in, on, or around your meals. The most important quality your meal prep containers need to have is being made from virgin polypropylene. Everyone loves recycling and recycled products because they are good for the environment, but when it comes to the container that is going to hold food items that you plan to ingest, you need to make sure it's not made from a recycled plastic. Our Meal Prep Containers Have Only Ever Been Meal Prep Containers
Eco-Friendly
Buying Isolator Fitness meal prep containers also means that you can be sure that the plastic in which you're storing food that will eventually be put into your body is: 100% BPA Free Prop 65 compliant Phthalate-Free Eco-friendly The plastic that we use is lighter, and thinner than other products, ensuring that we do not waste any precious resources, but also strong enough to stand up to everyday use, because they are infact intended to be used every day.
Reusable
ISO meal prep containers are designed and built to be used every single day, to be tossed between, freezer, refrigerator, meal prep bag, microwave, sink, and dishwasher all in the course of the day and to be ready to face it all again the very next day if necessary.
BPA-Free
BPA, otherwise known as bisphenol A., is an industrial chemical that is found in certain food and beverage plastic containers. It is possible that the BPA chemical can cause negative health effects related to the brain, prostate gland, and behavior of fetuses, infants, and young children. It is also possible for this chemical to seep into the food or beverage which are held within containers containing it, which is why buying BPA plastic is vitally important to the health of your family.
Space-Efficient
Undertaking the task of meal prepping for a single person can result in the use of as many as 40 meal prep containers in a single week (depending on how frequently a person eats, and how many meals they'll be meal prepping ahead of time). For an entire family, that number can become quite a bit larger. Investing in space efficient meal prep containers is important to ensuring that they will all fit in your freezer, fridge, and cupboards.
Microwave, Dishwasher, Freezer Safe
Freezer storage capability is essential. Having a product that can keep your food fresh in the freezer, without worrying about cracking, or breaking of the plastic, or freezer burn on the food is key. It is especially convenient to have these same containers be microwave and dishwasher safe as well, so that from storage to clean up, you've only dirtied, and have to clean, one container.
Did You Know:
Products made from recycled plastics often come from unhygienic and unsafe recycling sites. (http://apecsec.org/pros-and-cons-of-recycling/) These sites are often the homes of millions of bacteria that cause the spread of diseases and cause infections. These toxins are often captured within the recycled materials found there. I don't know about you, but that doesn't sound like a place I want my mouth anywhere near! Don't get me wrong, I'm all for recycling. In fact, my outdoor chairs are made from recycled plastic materials, but then again I don't store food on my outdoor chairs...
The facts are in. Meal prep containers MATTER! Everything about the container matters, from the materials used to make it, to the manufacturing process, the sites on which they were constructed, and which countries those manufacturing plants happen to be within. All of these factors go into determining the quality and dependability of the meal prep container that you're about to buy. Make sure that you know your facts, about your containers before you buy, because these facts have the ability to affect your health and safety, as well as the health and safety of your loved ones. Buy quality, sustainability, and Eco-friendly when you buy Isolator Fitness.